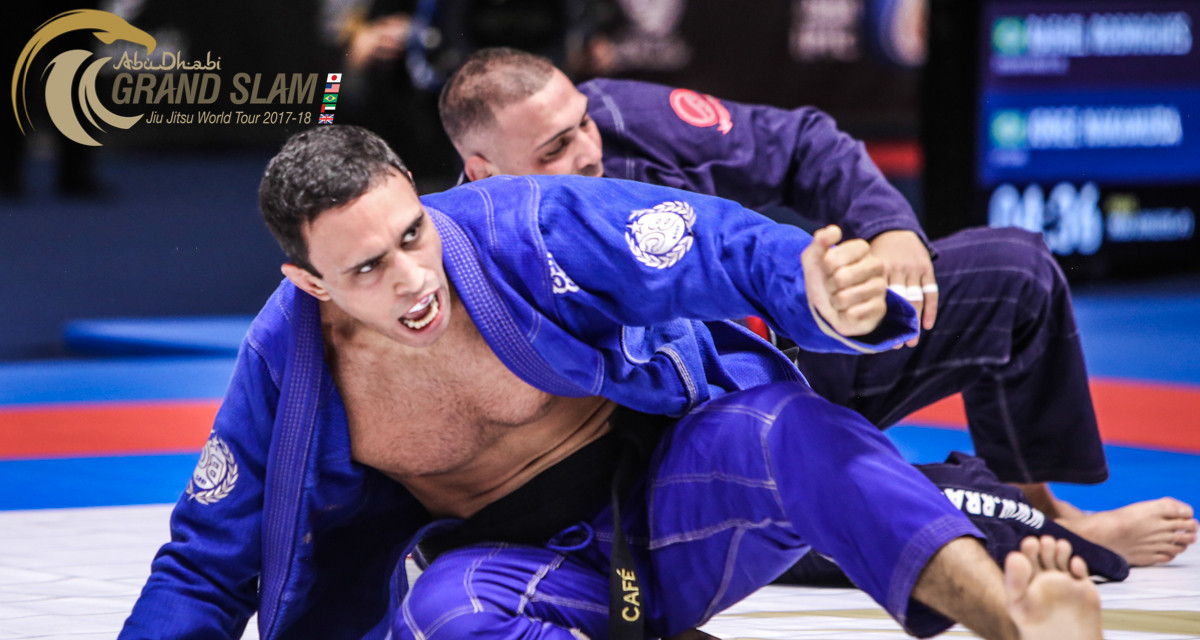 Abu Dhabi Grand Slam Jiu-Jitsu World Tour Tokyo: Alexandre "Café" Dantas chokes Ricco Rodriguez from the back, continues on the path to challenge Marcio Pé de Pano for the Legends Heavyweight title
The season opener of the Abi Dhabi Grand Slam Jiu-Jitsu World Tour, this Saturday, July 15, in Tokyo Japan, reserved a big surprise for the crowd in the venue and also watching all over the world. For the first time, the Legends series had a match outside of Abu Dhabi. Alexandre "Café" Dantas and Ricco Rodriguez clashed for the chance to continue on the run to challenge the heavyweight title holder Marcio Pé de Pano at the 2018 Abu Dhabi World Professional Jiu-Jitsu Championship, in Abu Dhabi.
Dantas, 38, is a black belt under Carlos Gracie Jr. He has notable wins in against Rodrigo Comprido, Gabriel Gonzaga, Fabrício Werdum, Marcelo Garcia, Demian Maia, Bruno Bastos, Fernando Tererê, Marcio Corleta, and others. In 2007, Dantas won the Brazilian ADCC trials. Rodriguez, 39, is a four times ADCC medalist including the 1998 gold medal at the +99kg division. He was also the first athlete from Porto Rico to win a belt in the UFC.
The much anticipated match took place right before the adult and master 1 black belt finals, on mat 4, for the pleasure of thousands of people all over the planet. As soon as the referee gave the go ahead, Café went for it and quickly managed to threat Rodriguez' back. The American did his best to defend the hooks, but ended up allowing Café to get a hold of his collar. The choke was in place and Ricco had no other option than to tap. Alexandre moves on to new challenges on his road to Abu Dhabi, on April 2018. About the experience, Dantas said: "It's an honor be recognized as a Legend of Jiu-Jitsu!"
The Legends series will continue in the upcoming stops of the 2017/2018 season of the Abu Dhabi Grand Slam Jiu-Jitsu World Tour. New matchups will be announced shortly. Here's what is coming:
Abu Dhabi Grand Slam Jiu-Jitsu World Tour Los Angeles
September 23-24, 2017
LA Convention Center
Registration period: May 1st – August 22nd (Late registration September 19th)
More info: https://events.uaejjf.org/event/9
Abu Dhabi Gand Slam Jiu-Jitsu World Tour Rio de Janeiro
November 10-12, 2017
Arena Carioca 3
Registration period: May 1st – October 9th (Late registration November 6th)
More info: https://events.uaejjf.org/event/10
Abu Dhabi Gand Slam Jiu-Jitsu World Tour Abu Dhabi
January 12-13, 2018
IPIC Arena
Registration period: May 1st – December 11th (Late registration January 8th)
More info: https://events.uaejjf.org/event/11
Abu Dhabi Gand Slam Jiu-Jitsu World Tour London
March 10-11, 2018
Copper Box Arena
Registration period: May 1st – February 10th (Late registration March 6th)
More info: https://events.uaejjf.org/event/12